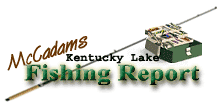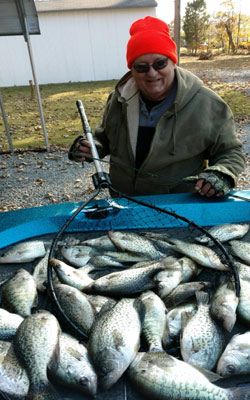 Jimmy and Larry from TN March 2017
Kentucky Lake Crappie Fishing
Crappie Action Guide Service


STUBBORN SPRING LINGERS…WEATHER DEALS CARDS

A mean March continues for Kentucky Lake's fishing scene. Fishermen had to battle another week of crazy weather that rocked the boat and kept most off balance.

Some days it was cold. Other days it was windy. A few were cold and windy! And yes, there was a warm spell in there too but gusty south winds were part of the deal.

It appears warmer weather is in the cards so fishermen should see an improvement soon, although the threat of thunderstorms and gale winds may enter the picture on Saturday. After Saturday's threat it appears a stretch of warmer days could pave the way for a significant and overdue turnaround.

Surface temperatures this week got a boost on Monday as the first day of spring roared in with warm weather. Readings at midweek were slowly climbing into the 55 to 57 degree range and gaining some lost ground. Water color is in good shape.

Lake levels are forecast to be 355.6 this weekend at Kentucky Dam and upstream at New Johnsonville. The reservoir is several inches higher than last week at this time and will be falling slowly as the weekend approaches.

TVA's curve will see lake levels start up on April 1 and continue a gradual rise throughout the month with a target date of May 1 for normal summer pool elevation of 359.

Crappie activity has been somewhat below average this week due to high winds that limited access to many open water areas. The fish have been confused and slow to recover from last week's cold front but progress is already underway as fish are showing signs of movement toward shallow venues.

Fish will likely stair-step their way toward midrange to shallow depths in the next few days. Once surface temps reach the upper 50's it usually stimulates a lot of movement. Watch for fish to make a blitz in preparation for spawning.

Depths of 5 to 10 feet should begin attracting prespawn crappie. Male crappie have been slow to move shallow or exhibit hormonal changes where their pigment darkens. That will likely change next week.

Earlier this week a few scattered crappie were taken in depths of 20 to 24 feet as fish pulled back to main lake areas to ride out the colder surface temps. A few boats caught low numbers of suspended fish out on main lake areas when they could get out there.

Areas that were void of fish earlier in the week may well see significant activity by this weekend.

Spider rigging and long line style anglers were struggling to put together consistency but so were vertical jig fishermen stalking stakebeds and brushpiles. It has been downright tough out there lately but things are changing quickly.

Sluggish crappie should return to a structure oriented mood these next few days. Odds are catch rates will rebound quickly as this stubborn spring releases its grip.

Bass fishermen scored decent stringers this week as the bite has been pretty good at times. Crawfish and shad colored crankbaits are still the best thing going.

Some chose to toss firetiger and other loud colored variations around gravel banks and points where wind had whipped up sediments adding a lot of stain to the water.

It only takes a day or two of warm sunshine to jumpstart the bass and crappie bite.

Anglers yearn for normalcy. It's has been tough to establish patterns lately with so much variation in the weather and wind.

Don't toss the tackle box in just yet. Things are about to break loose!


Also check out our past:
Kentucky Lake Fishing Reports

Steve McCadams is one of the nation's best known Crappie Fishermen and a full time resident of Paris, Tennessee. Steve is also a professional hunting and fishing guide here in the Paris Landing area.