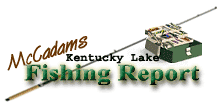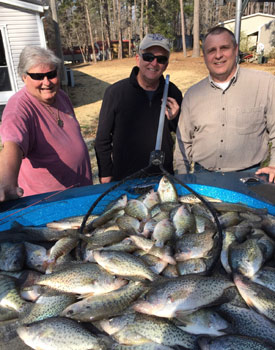 Keith, Bob, and Tom from Indiana February 2017
Kentucky Lake Crappie Fishing
Crappie Action Guide Service


MARCH ROARS IN LIKE A LION


March roared in like a lion on Wednesday in the aftermath of thunderstorms that rocked the boat of spoiled winter fishermen. Most had grown accustomed to weeks of nice warm weather.

Last week at this time spring like days had birds singing and anglers basking in the sun as they tested the waters of Kentucky Lake under abnormally warm conditions.

It has been a different story this week as some windy days and cooler temps sort of changed things but March is a month known of instability. The one thing you can predict about March is that it is unpredictable!

Not to worry, however, as winds are expected to die down and normal temps will return soon as the first week of March gets underway. Every day brings spring that much closer too as it will officially arrive on March 20th this year.

Lake levels this week havenít changed much as elevation is forecast to be in the 355 range this weekend at Kentucky Dam. Upstream at New Johnsonville the reservoir is slightly lower with readings in the 354.8 range. TVA had the lake a few inches lower earlier in the week but local rains may have influenced a minor fluctuation.

Surface temperatures cooled a bit from last week at this time. Readings at midweek were in the 52 to 55 degree range. Thatís not has high as last week but still somewhat above the norm.

Deep water crappie fishermen were still landing decent numbers this week when winds allowed them to pursue main lake ledges and deep ditches. Depths of 20 to 25 feet have been giving up several fish this week, although most anglers reported landing a lot of small fish that required a length check on the measuring board.

By the way, anglers in the Tennessee portion of Kentucky Lake are reminded of the new creel limit of twenty (20) fish that went into effect on Wednesday.

A lot of boats were using slow drift or trolling methods over deep venues using live minnows and having success. Some were spider rigging and others were just bottom bumping with double hook rigs.

Others were tipping jigs with minnows and catching decent numbers too. While some scored using a vertical bottom bumping rig others found a slow trolling method working pretty good as they pulled jigs on multi-pole rigs and covered a lot of water.

Boats targeting midrange depths of 9 to 12 feet seemed to fall off a bit as to their catch rates the last few days. Last week during the unusual warm spell fish showed interest in moving up toward shallow zones but stakebeds and brushpiles located in midrange depths were not as productive this week.

A lot of transition takes place during the month of March as crappie are often on the move and responding to weather---be it good or bad. Catch a warm day and fish will move during the day as surface temps warm and schools of shad begin to roam.

The fish will follow their forage so when the shad meander and move up the crappie will be hot on their trail.

Bass fishermen this week were catching decent stringers but like the crappie fishermen they had to pick their days and yield to the wind at times.

A few hefty females were taken near gravel points and mudflats at the mouth of big bays. Fish were staging in such areas and already showing signs of moving up to shallow venues in response to last week surprising rise in surface temperatures.

Several credited their catch to Rattle Trap style lure choices in crawfish, chrome/blue, fire tiger and Tennessee Shad variations. Some swim baits were working too fished on Alabama rigs.

Big chunk rock banks and points seemed to be producing pretty good and some boats were tossing suspending jerk baits.

Watch for some hefty bass to be taken in the next couple of weeks as the prespawn females are weighing heavy with a well-developed egg sack.

March has a reputation for producing some of Kentucky Lakeís biggest stringers!


Also check out our past:
Kentucky Lake Fishing Reports

Steve McCadams is one of the nation's best known Crappie Fishermen and a full time resident of Paris, Tennessee. Steve is also a professional hunting and fishing guide here in the Paris Landing area.