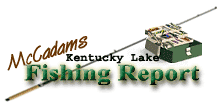 TROLLING TECHNIQUES WORK ON WEST SANDY CRAPPIE


March Madness continues to throw curves in the direction of Kentucky Lake anglers who are yearning for springís arrival. Their wait is over as the season officially changes today on the calendar.

Riding the roller coaster of weather this week is what most anglers have done. Theyíve had to use sunscreen one day and dig out the coveralls the next. If you donít like the weather just stick around; it will change.

Seems March weather is iffy. Always has been; always will be.

After starting the week out with above average temperatures---the mercury climbed to 80 on Monday---winterís last week reared its ugly face with cold rain and northeast winds before officially letting go. Temps dropped about 30 degrees at midweek and chilled the spirits of fishermen wishing spring would get here and stay.

It appears the weekend forecast is a good one as warmer temps will arrive with no rain.

Surface temperatures responded to the warm spell earlier this week and jumped to 54 to 56 degrees in the backs of some bays on Tuesday but lost a few notches at midweek. Main lake temperatures are a bit cooler and resting in the 51 to 52 degree range.

Dingy water color remains across most of the reservoir but it has improved in many areas this week as falling lake levels pulled some of the muddy water out of backwater zones. The main Tennessee River channel is still quite dingy and strong current is still present but has diminished since last week.

Lake levels had been falling slowly all week but the reservoir crested Wednesday and has actually risen a few inches since then. TVAís forecast for the weekend indicates a reading of 355.8 at Kentucky Dam; upstream at New Johnsonville projections are 356.2.

Bass fishing has been pretty good with some hefty largemouth taken by anglers tossing crankbaits around gravel points, roadbeds, rocky points and even some sloping mud bars. Popular color choices have been black/chartreuse, firetiger, crawfish, and some fluorescent orange and red variations due to the dingy water color.

Some anglers were playing the current in places and fishing rip-rap or island points while others are beating the banks and also casting suspending crankbaits, jig and craw combos, along with both Carolina rigs and Alabama rigs.

Several fish in the 4-pound plus range have been taken lately. Last weekendís Cabelaís Collegiate bass tournament out of Paris Landing had an 8.56 pound largemouth for big fish.

Crappie fishing has produced mixed reports. There are the haveís and have notís. Most of the success stories are coming from West Sandy where anglers are slow trolling multi-pole spider rigs or pulling long lines with Road Runners or curly tail jigs.

From Springville pumphouse toward the Britton Ford area and on toward the mouth of West Sandy is where most of the crappie have been caught lately.

Anglers fishing further north toward Paris Landing have not fared well as some traditional areas such as Swamp Creek and the Elkhorn basin within the Tennessee National Wildlife Refuge, which reopened to access on Monday, have not produced. Those zones should begin producing soon, however.

Action has been slow on main lake ledges too as the deep drop-offs in Big Sandy have not paid dividends. Usually the ledges or flats of 16 to 20 feet are productive in mid to late March before fish begin transitioning toward prespawning areas but it appears the combination of muddy water and rising lake levels have had an adverse effect on this area.

The lionís share of crappie have been suspended and not relating to structure the last week or so. Anglers trolling the West Sandy sector are covering a lot of water and with a variety of baits set at different depths.

While a few boats are vertical fishing stakebeds and brushpiles most have reported limited results. However, as surface temps warm, lake levels settle down and water color clears anglers should see improvement in midrange to shallow areas in the next week to ten days.

Bank fishermen are still catching crappie at Springville pumphouse so all the fish arenít deep. Several stringers have been taken this week at the discharge area near the boat ramp. And, a few success stories have also come in from crappie anglers fishing behind the levee in Springville bottom itself.

Late March always sees a lot of movement from both bass and crappie. Changing weather and wind are big factors in the whereabouts and behavior.

Although some anglers are enjoying success while adjusting and perfecting the various trolling techniques, for most it has been a slow start in their search for finicky fish. Spring has sprung!


Also check out our past:
Kentucky Lake Fishing Reports

Steve McCadams is one of the nation's best known Crappie Fishermen and a full time resident of Paris, Tennessee. Steve is also a professional hunting and fishing guide here in the Paris Landing area.