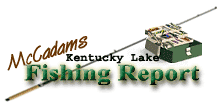 WARM SPELL BRINGS SHORT REPRIEVE TO ANGLERS


Winter fishermen have been waiting on the return of warm weather since last week's blast of sleet and snow.

Looks like anglers will get a short hiatus from winter weather as temps are warming rapidly and expected to eclipse the 60 degree mark this weekend. Quick warm ups this time of year often come at the expense of a strong southwest wind, however.

The warm spell will be short lived as northwest winds are forecast to return early next week. Best not put the coveralls too deep in the closet just yet!

A few crappie anglers have ventured out this week, stalking both main lake ledges checking out the deeper bite and also sneaking around stakebeds and brushpiles in the 11 to 13 foot depth range.

Some fish were taken in both depth ranges too. Seems anglers working the drop-offs were catching several small fish in-between some scattered keepers. Depths of 18 to 22 feet gave up a few fish but anglers were having trouble finding any schooling crappie.

Midrange depths did produce some keeper fish but boaters were having to make a lot of stops to accumulate double digit catches.

Most were fishing jigs in the red/chartreuse, black/chartreuse and watermelon with red sparkle as to some of the popular color choices.

Lake levels this week had been falling rapidly and reached the low ebb of winter pool elevation at midweek but began rising Wednesday afternoon in the aftermath of heavy rains earlier in the week across the region. Water color was in pretty good shape as a lot of last week's dingy color disappeared with the falling lake levels.

Projections going into the weekends show lake levels will rise. A forecast of 355.3 is projected for Kentucky Dam while elevation will be higher upstream in the New Johnsonville area. Lake stages there will be 356.3 and rising.

Surface temperatures have been in the 49 to 51 degree range.

Bass fishermen have been creeping out and hitting some deep water spots when the wind allows. Most boaters are searching for schools of baitfish along ledges on the main river bank and inside the mouth of some large bays.

The deeper depths are harboring some shad in places and those anglers who have mastered the art of interpreting side imaging sonar units have been able to locate bass in their winter hideouts and master a deep water winter pattern. Tossing swim baits, deep running crankbaits, spoons and leadhead jigs with twister tail grubs attached have paid dividends.

February is a month with a few warm days sandwiched between bone chilling winds and cloudy, dreary days. Occasionally anglers get a calm day but most realize winter is still in charge. Fishermen have to play the cards as dealt and the season sometimes tosses out a mean hand.

Odds are the weather roller coaster will continue so grab a decent day when you can and make the most of it. Everyday means spring draws a little closer!


Also check out our past:
Kentucky Lake Fishing Reports

Steve McCadams is one of the nation's best known Crappie Fishermen and a full time resident of Paris, Tennessee. Steve is also a professional hunting and fishing guide here in the Paris Landing area.