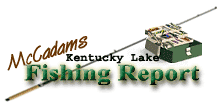 WIND CHILLS KEEP WINTER ANGLERS AT BAY


Kentucky Lake's winter fishing scene has taken a back seat to the weather this week. Most anglers have yielded to below average temperatures and brisk northwest winds. It has been brutal out there lately!

By next week the weatherman indicates some warmer weather will creep into the picture but not before several more days of winter weather linger, a reminder what season still calls the shots.

Lake levels this week have been above the normal winter pool stage by several feet due to last week's heavy rains. Observed elevation for Kentucky Dam was 356 with a projected drop in lake levels throughout the weekend. Upstream at New Johnsonville lake levels are a bit higher with readings in the 358 range but also falling daily.

Water color is in pretty good shape across most of the reservoir. Surface temperatures have been in the 41 to 44 degree range but will likely rebound a bit next week.

Winter bass fishermen scored catches a few days last week before the cool snap came in. A few boats were finding fish on ledges out along the river bank as they found schools of shad with sonar equipment. Tossing jigs with twister tails, grubs, deep running shad imitations and some spoons produced pretty good at times when wind allowed anglers to work some open water spots.

Crappie fishermen have also been venturing out and stalking the main lake ledges where a few fish were taken in the 18 to 22 foot depth range. Most are tightlining jigs and some minnow rigs around the deep structure.

Meanwhile, the weatherman says some snow flurries may return this weekend so put another log on the fire and ride it out. February is a month full of surprises where roller coaster temperatures are the norm.

Anglers have cabin fever after staying in all week but it appears warmer weather is on the way. If you can hold out until the middle of next week it appears things will improve.


Also check out our past:
Kentucky Lake Fishing Reports

Steve McCadams is one of the nation's best known Crappie Fishermen and a full time resident of Paris, Tennessee. Steve is also a professional hunting and fishing guide here in the Paris Landing area.