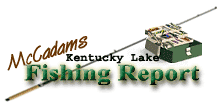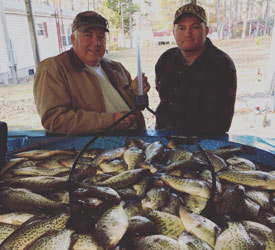 Steve Hale and John Wainscott from TN December 2016
Kentucky Lake Crappie Fishing
Crappie Action Guide Service



WINTER FISHING HOLDS UP WELL…WARM MONTHS HAVE BEEN KIND


For most winter fishermen on Kentucky Lake the weather has been kind and the fish have been biting. Both bass and crappie anglers have enjoyed unusually warm weather throughout the months December and January and anglers have made the most of it.

Even before winter months arrived crappie anglers were having good luck throughout the late fall and it lasted well into the winter months and the parade of success hasn't stopped yet.

Hefty stringers of crappie have been caught lately by crappie fishermen working main lake ledges. Depths of 18 to 22 feet have been giving up several crappie.

Some anglers are using all jigs. Others are using all minnows. And, a few are using a combination of jigs tipped with minnows. All seem to have having some degree of success.

Also producing have been midrange stakebeds and brushpiles. Depths of 9 to 12 feet are accounting for plenty of fish too.

Some boaters were even casting jigs and working slip bobbers around shallow areas such as boat docks or various structure and having good luck too.

Bottom line is that crappie have been biting all winter as only a few short segments of cold windy weather interrupted the party. That worked well for fishermen but hurt the feelings of waterfowlers this season as most suffered during the long spell of unseasonably warm weather.

Lake levels this week have been falling after a surge last week. Each day the reservoir has fallen a few inches and TVA projects readings of 355 in elevation as the weekend approaches. Present levels are down about two feet from last week at this time.

Surface temperatures have been above normal for this time of year, a reflection of the warm winter weather. Readings have been in the mid to upper 40's lately. Fishermen enjoyed several warm days when the air temps reached the mid to upper 60's.

Not only have unseasonably warm days dominated but light winds have too. That's also rare for this time of year.

Crappie anglers aren't the only ones having success as bass fishermen have been out in droves too. Some hefty stringers have been taken by anglers tossing crankbaits around boat docks and relative shallow areas at time.

Some bass anglers have targeted shallow ledges at times using crankbaits, swim baits, jig and craw combos, spoons, and Alabama rigs.

There have been some trophy largemouth taken this winter too as a few buddy tournaments reported five fish limits eclipsing the 25-pound range. Some lunkers exceeding the 10-pound range have been taken.

It has been a weird winter for both anglers and hunters but the anglers have benefitted the most!

As the first week of February enters the picture some cooler weather in instore. Watch for a rebound to warmer weather in the near future however.


Also check out our past:
Kentucky Lake Fishing Reports

Steve McCadams is one of the nation's best known Crappie Fishermen and a full time resident of Paris, Tennessee. Steve is also a professional hunting and fishing guide here in the Paris Landing area.