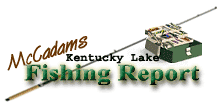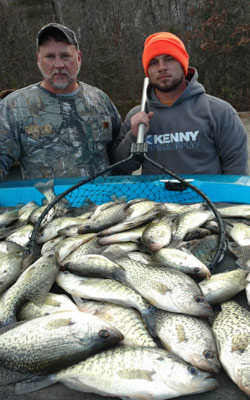 Roger Binkley and Chase Binkley from TN
December 2017
Kentucky Lake Crappie Fishing
"1 pole jig fishing"
Crappie Action Guide Service


FISHING SCENE ON ICE

Not much to report from the winter fishing scene this week as most all anglers have ridden out the nasty cold weather nowhere near a fishing boat or out on the lake.

There was a time here on Kentucky Lake when several die-hard sauger fishermen tested the water during the coldest part of winter. However, a diminished sauger fishery has pretty much clipped the wings of sauger fishermen along the Tennessee River these last few years.

Once popular spots such as the mouth of Duck River, Pickwick Dam tailrace and the old Danville railroad bridge area are void of boats these days.

Brutal weather and dangerously cold temperatures have kept even the most seasoned crappie and bass anglers off the lake lately. Ice has taken over many back water bays and fishing areas. Boat ramps are iced in too, prohibiting access as ice has caked up on concrete launch ramps and make many in accessible.

Things appear to be changing for the better as a slight warm up is in the forecast. Temps are forecast to rebound this weekend and climb above the freezing mark. A few days may even make it up to the 50-degree mark!

Perhaps next week might free up some frozen areas and boat ramps to allow some anglers suffering from cabin fever to get out and about.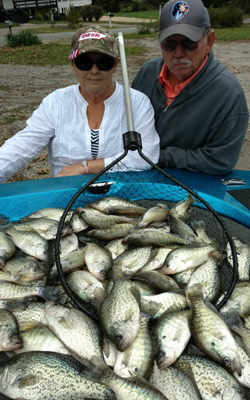 Jane and Tom from TN 2017
Kentucky Lake Crappie Fishing
"1 pole jig fishing"
Crappie Action Guide Service

Meanwhile, lake levels have fallen steadily during the recent Ice Age. Elevation at Kentucky Dam has dropped to the 354.5 range the last few days. Upstream at New Johnsonville lake levels are in the 354.9 range.

Since the heavy rains just before Christmas swelled lake levels some five feet and jumped above the summer pool elevation TVA really pulled the plug and brought the reservoir back down to where it was prior to the heavy rains.

Surface temperatures are at the 32 degree mark in some bays where ice has taken over while the main river is still open and harboring surface temps around the 34 degree mark. A little warmer weather by this weekend will see a slight rise in temps.

Odds are anglers will battle a shad kill after this severe cold as thatís normally the case when the baitfish get caught in shallow water and icing occurs. No reports just yet but donít be surprised to see it later this week.

Also check out our past:
Kentucky Lake Fishing Reports

Steve McCadams is one of the nation's best known Crappie Fishermen and a full time resident of Paris, Tennessee. Steve is also a professional hunting and fishing guide here in the Paris Landing area.