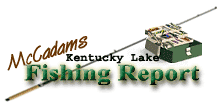 WARM DAYS AHEAD

Kentucky Lakeís fishing scene hasnít had much to report lately as most anglers have surrendered to winter conditions. Fishermen have been postponing their trips and waiting the return of mild weather before venturing out on a cold and windy lake.

It appears their wait is over as unseasonably warm weather is in the forecast as the weekend approaches. A cold front is in the forecast for the middle of next week but before it arrives temps in the low to mid 60ís will hang around.

That should really stir up anglers who have been cooped up with cabin fever. Odds are bass and crappie anglers will be out in force if the wind cooperates. Often times these quick winter warm ups come at the price of strong south winds however.

Lake levels have settled down and have been a few inches above normal winter pool with readings in the 355.2 range this week. Surface temps have been in the 40 degree range but will warm some throughout the weekend.

Water color is in pretty good shape throughout the reservoir. A few crappie anglers braving the elements lately reported tough fishing. Perhaps the warm up will help things get going.



Also check out our past:
Kentucky Lake Fishing Reports

Steve McCadams is one of the nation's best known Crappie Fishermen and a full time resident of Paris, Tennessee. Steve is also a professional hunting and fishing guide here in the Paris Landing area.