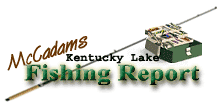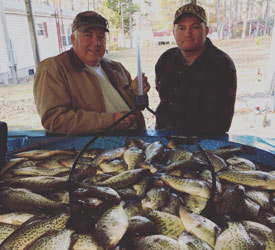 Steve Hale and John Wainscott from TN December 2016
Kentucky Lake Crappie Fishing
Crappie Action Guide Service


ANGLING HOLDS UP

Winter anglers are holding on to a decent bite in the crappie department. Reports continue to come in from successful fishermen catching them in a variety of depths.

Some decent stringers have come from midrange stakebeds in main lake areas lately around depths of 9 to 12 feet. At the same time deep sides of drop-offs are still paying dividends too.

Boats working the 18 to 24 foot depth range with both live minnows and jigs are finding enough fish to keep them going and a few have even reported landing limits.

It appears some cooler weather will escort the new year in so anglers may find the going more challenging if north winds and cooler temps descend.

Lake levels this week have risen a few inches in the aftermath of heavy rains and thunderstorms that drenched the region earlier this week.

Projections for the weekend show Kentucky Lake levels will be in the 355.5 range at New Johnsonville and slightly higher at Kentucky Dam where the elevation will be in the 355.6 range. Water color has a little stain this week and surface temperatures are hanging around the 39 to 42 degree range.



Also check out our past:
Kentucky Lake Fishing Reports

Steve McCadams is one of the nation's best known Crappie Fishermen and a full time resident of Paris, Tennessee. Steve is also a professional hunting and fishing guide here in the Paris Landing area.