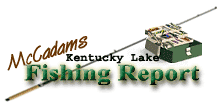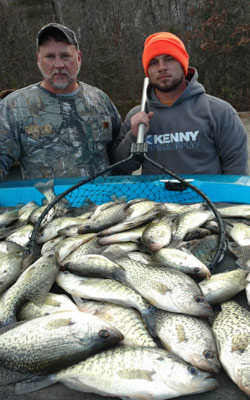 Roger Binkley and Chase Binkley from TN
December 2017
Kentucky Lake Crappie Fishing
"1 pole jig fishing"
Crappie Action Guide Service


LAKE HIGH AFTER HEAVY RAINS

Last weekís heavy rains brought flooding to some areas across the TVA valley and Kentucky Lakeís elevation jumped dramatically due to all the runoff.

Some areas received in excess of four to five inches and that runoff has been coming down the Tennessee River this past week to the extend the reservoir rose from its low ebb of winter pool to a few inches above summer pool---a rise of about five feet!

Elevation at midweek reflected a crest of 359.3 in the New Johnsonville area while downstream at Kentucky Dam the elevation crested about summer pool but began falling on Tuesday. TVA projects a steady fall for the next week or so and will mostly likely attempt to pull the reservoir back down to winter pool to establish more holding capacity.

It is unusual to see the reservoir at this level during the winter months but thatís what the system was designed to do. Lower lake levels during the fall and winter months allow more storage capacity in the event of flooding rains like we just experienced.

Expect to see the elevation fall about 5 to 6 inches each day for the next week or so. Water color is dingy to muddy in many areas. Surface temps have dropped down to the 35 to 38 degree range.

Most anglers have thrown in the towel until warmer days return. That may be a spell as colder conditions are forecast to linger with yet another cold front descending as the New Year chases away the old one. Temps will fall into the teens for several nights with some day not rebounding above the freezing mark!

Once the thaw does return and warmer days enter the forecast, anglers will be out in force as cabin fever is already taking its toll!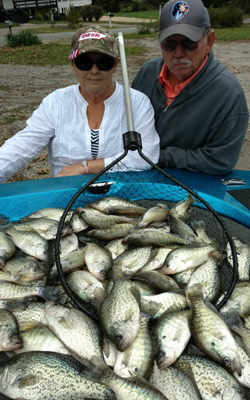 Jane and Tom from TN 2017
Kentucky Lake Crappie Fishing
"1 pole jig fishing"
Crappie Action Guide Service

BITTER COLD CHANGES OUTDOOR PICTURE FOR ANGLERS/HUNTERS

Frigid temperatures have thrown a curve to the outdoor scene here in the Kentucky Lake region and pretty much across the whole region. From fishermen to duck hunters; seems everyone has been a victim of the Siberian Express.

At midweek temps fell off the table, plummeting to the teens without rebounding above the freezing mark for daytime highs. That spells ice for waterfowlers who had just received water in lowland areas from last weekís heavy rains.

Across the four state region shallow flooded fields and backwaters of river bottoms and sloughs will now succumb to ice, taking those areas out of the equation for weary waterfowlers who had hope to benefit from recent rains and runoff.

Itís true duck hunters want cold weather to stimulate the migration and stir up ducks that are already here, putting them up in the sky to move around and search for food. However, there are limitations. It can get too cold at times and once ice enters the picture itís another ballgame.

Not only is it cold now but more is on the way! The weatherman says the New Year will arrive under another spell of bone chilling winds and cold temps that wonít allow any thawing of shallow water areas.

Ducks will tolerate cold weather for a short spell but once shallow feeding and roosting areas freeze and dry farm ground gets stone hard from the cold prohibiting dry feeding in corn and other grain fields the ducks will move out to areas with more access.

Actually, during very cold spells ducks wonít move much in their traditional early morning feeding sprees, opting to wait until midday when slightly warmer temps and sunshine sometimes thaw frozen ground or pockets of water. It can get too cold for ducks and those who hunt them at times!

When severe weather arrives it adds additional challenges of all sorts. Outboard motors are stubborn to start. Batteries fall victim to the cold and lose their charge. Pull ropes freeze too so manual start motors are dead in the water at times.

Decoys lose their lifelike appearance when wearing a sheet of ice that glares in the sun. Ducks can tell the difference too and flare easily from such settings. Although hunters may attempt to keep the ice off or broken out of the spread sometimes itís just an uphill battle.

Guns donít work right either. Automatics jam as they just donít cycle right when a little moisture on the moving parts turns to ice. When itís this cold there are a lot of one shot automatics out there!

Nothing is more humbling than having a flock of ducks finally descend over the decoys only to have a gun malfunction. It happens to just about everyone at some point in time.

You rise early and travel long distances. Freeze your hands putting out the decoys and go through all the dirty work of getting ready and reaching the blind. After a long drill you finally get thing set up and after hours of waiting some ducks fly by in close shooting distance only to have your gun freeze up and not shoot or just shoot one time!

Ready or not cold weather is here and it appears it will be here for the next several days. Anglers are crying too and already suffering from cabin fever.

The fishing scene will fall victim to the windy conditions and frigid temps too and keep most fishermen inside by the fire. There was a time when some winter sauger fishermen still braved the elements and took to the Tennessee River to fish for their favorite cold weather prey that made spawning runs upstream.

Places like the mouth of Duck River and other locales along the river channel would see sauger stack up in such places. The tailrace at Pickwick was another popular venue during bitter weather as the fish would still bite.

The last few years has seen a dramatic decline in the sauger fishery so not many winter anglers pursue them anymore.

A few die-hard winter crappie anglers still brave the cold at times but even the toughest ones throw in the towel when itís too cold for too long or nasty north winds deal the cards.

And so it is that winter weather has descended with a vengeance. The year will end on a cold note and the new one will start out the same way. Put another log on the fire and ride it out as best you can!

Also check out our past:
Kentucky Lake Fishing Reports

Steve McCadams is one of the nation's best known Crappie Fishermen and a full time resident of Paris, Tennessee. Steve is also a professional hunting and fishing guide here in the Paris Landing area.