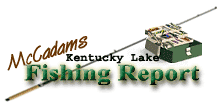 .ANGLERS ENJOY MILD WEATHER


Fishermen around these parts have extended their fall season. Looks like winter will start off mild too so they can resume catching early next week when above average temperatures return.

It has been unseasonably warm for the last several weeks and that has suited anglers just fine. Most know the pretty days are scarce this time of year but light winds and warm sunshine have been kind. Folks have been fishing as though it was early October.

Some decent stringers of crappie have been taken lately too by anglers stalking the deep main lake ledges. Depths of 18 to 20 feet have paid dividends lately. Most anglers were tightlining jigs in the black/chartreuse combo colors but several variations of chartreuse have worked.

A few fish have been taken in shallow to midrange stakebeds too.

Lake levels have been falling on a gradual basis this past week. TVA has the reservoir back down to winter pool but how long that lasts depends on rainfall and next week has plenty of that in the forecast.

Projections for the weekend indicate lake levels will be in the 354.5 range at Kentucky Dam. Upstream around New Johnsonville readings will be in the 354.9 range.

Surface temps have been in the 49 to 52 degree range. Some cooling will take place this weekend after the cool snap but moderate weather early next week should see a little rebound. Water color had been stained but has cleared some with the falling lake levels.

Bass fishermen have taken advantage of the extended season too with some decent stringers taken using typical fall methods of crankbaits on gravel and sloping points.

A couple of days of chilly weather may curtail activity somewhat but it appears fishing weather is in next week's forecast with mild temps for Christmas week in the cards.


Also check out our past:
Kentucky Lake Fishing Reports

Steve McCadams is one of the nation's best known Crappie Fishermen and a full time resident of Paris, Tennessee. Steve is also a professional hunting and fishing guide here in the Paris Landing area.