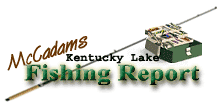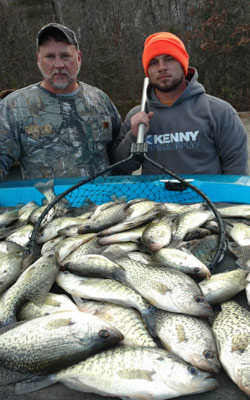 Roger Binkley and Chase Binkley from TN
December 2017
Kentucky Lake Crappie Fishing
"1 pole jig fishing"
Crappie Action Guide Service


FISHING SCENE SLUGGISH

Late fall anglers testing the waters of Kentucky Lake have had to dodge some inclimate weather lately but it appears a warmup is on the way for this weekend. Most fishermen know they have to pick their days this time of year and go when light winds or moderate temperatures allow.

Meanwhile, crappie anglers have been finding a few fish on the deep sides of main lake ledges when the wind cooperates and allows them to venture out to their open water haunts.

Depths of 18 to 22 feet continue to attract the bulk of crappie around the Paris Landing sector. A few fish have been taken in midrange stakebeds but deeper ledges have been the most productive area for the last few weeks.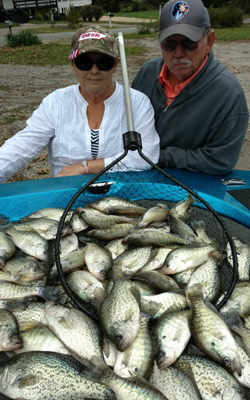 Jane and Tom from TN 2017
Kentucky Lake Crappie Fishing
"1 pole jig fishing"
Crappie Action Guide Service

Most anglers were tightlining jigs or using bottom bumping rigs with a double jig presentation tied on drop loops. Some were offering live minnows as well and finding a few fish taking them too.

Surface temperatures this week had cooled to the 46 degree range. Water color remained clear as rain has not been in the picture.

Lake levels continue to sleep at a low ebb. Elevation this week in the Kentucky Dam area was projected to be in the 354.4 range. Upstream around New Johnsonville the reservoir was even lower with an elevation of 353.8.

Bass fishermen havenít reported much in the way of success lately.


Also check out our past:
Kentucky Lake Fishing Reports

Steve McCadams is one of the nation's best known Crappie Fishermen and a full time resident of Paris, Tennessee. Steve is also a professional hunting and fishing guide here in the Paris Landing area.