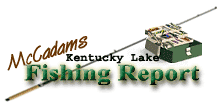 CRAPPIE BITE CONTINUES

Crappie fishing on Kentucky Lake has been good these last few weeks. A cold front now underway may curtail activity for a few days but temps are expected to rebound early next week, climbing back to the low 60ís.

Anglers have landed some dandy stringers lately from a variety of depths. Some credited their catch to shallow areas of only four feet of water.

There have also been some dandy numbers taken from midrange stakebeds in 10 to 12 feet. The midrange structure has paid off well all fall.

At the same time other boats have reported plenty of action from deep brushpiles on the edge of main lake ledges. Depths of 17 to 22 feet have given of nice stringers too as anglers tightlined jigs around the deep cover.

Some anglers credit live minnows for their catch while others have caught limits using only jigs.

Kentucky Lakeís crappie fishery has improved all fall and a lot of those short fish that were biting this summer and early fall have grown in length and now eclipse the minimum 10-inch length limit.

Bass anglers havenít fared as well but there are still a few decent stringers being caught. A cold front now in progress wonít work in favor of stubborn bass either but despite the cool conditions some decent bass will be taken this week, especially by anglers competing in the Bassmaster Toyota Team Championship.

Anglers began competition on Wednesday and the event will culminate Saturday.

Some are tossing crankbaits in the backs of bays while others are working ledges and perhaps searching for a few smallmouth at times.


Also check out our past:
Kentucky Lake Fishing Reports

Steve McCadams is one of the nation's best known Crappie Fishermen and a full time resident of Paris, Tennessee. Steve is also a professional hunting and fishing guide here in the Paris Landing area.