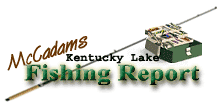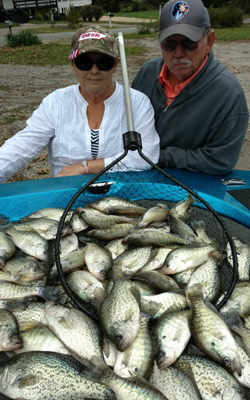 Jane and Tom from TN October 2017
Kentucky Lake Crappie Fishing
"1 pole jig fishing"
Crappie Action Guide Service


LOW LAKE LEVELS

Late fall anglers on Kentucky Lake are facing low lake levels recently as TVA has really pulled the reservoir down. Lake levels forecast for the weekend show the Kentucky Dam area will see an elevation of 354.6 while upstream around New Johnsonville lake stages are even lower with projections of 354.3.

Generally speaking TVA keeps the reservoir around 355 for the winter pool mark but boaters best use caution since the lake is a few inches below normal, which means a lot of shallow sandbars and submerged stumps await your outboard's lower unit!

Water color has cleared this week and most of the reservoir is in good shape for fishing. Surface temperatures have cooled to the 52 to 54 degree range.

Fall crappie fishermen continue to report decent numbers, although most are still culling several small fish on the average outing. Seems a few better fish are showing up with a few more eclipsing the 10-inch minimum length limit than was the case back in September and October.

Deeper depths have been giving up several fish as a lot of boaters are targeting the deep sides of main lake ledges focusing on the 17 to 22 foot depth range. Bottom bumping rigs armed with minnows or jigs are paying off.

Popular jig colors have ranged from red/chartreuse to blue with sparkle, lime/white, electric chicken and black/chartreuse just to name a few.

Anglers targeting midrange stakebeds in the 9 to 12 foot zone have managed to take a few more fish this week as well.

Bass fishing continues to be quite challenging for most as the fall bite has been off. Some fish were chasing shad on main lake flats and along some gravel banks this week however. Tossing shad colored crankbaits has paid off at times as have some Carolina rigs and swim baits.

Not many hefty stringers have been taken as of late. For most it has been a one-here and one-there scenario with big numbers of fish hard to pinpoint.


Also check out our past:
Kentucky Lake Fishing Reports

Steve McCadams is one of the nation's best known Crappie Fishermen and a full time resident of Paris, Tennessee. Steve is also a professional hunting and fishing guide here in the Paris Landing area.