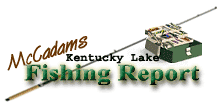 UNBELIVABLE FALL FISHING

Most anglers have been surprised and somewhat shocked by the long stretch of great fall weather. It has been beautiful for several weeks running.

Another week of record high temperatures delivered excellent fishing conditions to the overall Kentucky Lake fishing scene. Light and variable winds have been icing on the cake too.

Crappie anglers have enjoyed consistent catches these last few weeks and several limits were taken this week by anglers stalking both deep drop-offs on the main lake and midrange structure what continues to pay dividends.

Hefty stringers were caught this week by anglers vertical fishing jigs and jigs tipped with minnows. A few anglers had good luck just using one or the other.

Depths of 17 to 21 feet have given up some good numbers the last few days. Deep brushpiles and some natural stumps have been holding schooling crappie.

Also productive have been the midrange depths of 7 to 14 feet. Stakebeds in the midrange zone whether located on main lake flats or near the edges of submerged creek channels and sloughs have attracted abundant numbers of late fall crappie.

Although a cold front is in the forecast as the weekend approaches escorted by some brisk northwest winds, anglers have had a long honeymoon with above average temperatures this fall. Not many old timers can recall the weather staying this nice for this long.

Lake levels this week stayed similar to last week with readings in the 354.4 range at Kentucky Dam. Upstream around New Johnsonville even lower lake levels were greeting fishermen as the elevation there was projected to stay around the 354.2 range this weekend.

Drought conditions continue and while it has kept lake levels low for the last two months, it hasnít impacted the crappie bite at all. Water color has stayed clear all fall as well.

Surface temperatures have been above normal throughout November. Readings this week were sleeping in the 65 to 67 degree range, which is about five degrees above normal for this time of year.

It appears a chill will enter the picture by Saturday as temps are expected to fall drastically once a front blows in on Friday night.

Bass fishermen have experienced mediocre action this week and struggled to put together any big numbers of fish. Some boats are beating the banks and tossing shad colored crankbaits around gravel shorelines and sloping points while others are targeting stumps and shallow crappie beds with spinnerbaits, topwater jerk baits and swim baits.

Others boats have backed off the banks and continued to work main lake flats and ledges, hoping to find some schooling fish chasing shad. The overall bass bite has been off a bit, however.

Anglers may have to yield to the weather for a few days as the first real front of the fall descends. Odds are fishing conditions will moderate by early next week so anglers should be able to resume their fall fishing exploits but perhaps have to add the overcoat at times!


Also check out our past:
Kentucky Lake Fishing Reports

Steve McCadams is one of the nation's best known Crappie Fishermen and a full time resident of Paris, Tennessee. Steve is also a professional hunting and fishing guide here in the Paris Landing area.