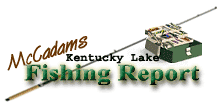 WINTER WEATHER PUTS BRAKES ON FALL FISHING


Kentucky Lakeís fall fishing scene turned to winter this week with the arrival of a cold front that pretty much shut things down for most anglers. Temperatures at midweek were 25 degrees below the average and more akin to mid-January that mid-November.

Surface temperatures dropped to 56 degrees this week and will no doubt fall even further by this weekend as cold weather is expected to linger for several days. Water color remains clear across most of the reservoir.

Lake levels havenít changed much this week. TVA projects an elevation of 354.6 at Kentucky Dam this weekend. Upstream at New Johnsonville the reservoir will be in the 354.7 range.

Both bass and crappie anglers are hoping for a rebound but it appears no warm spell is in sight. Most anglers begin to stir when sunny days show up with temps in the mid-50ís but the long range forecast isnít painting a very good picture in terms of a warm-up.

A few boats reported decent crappie catches last week with some improvement around stakebeds and brushpiles in the 9 to 14 foot depths. A good grade of fish was reported by some anglers working the mouth of West Sandy and out on Big Sandy around the power lines in the Mansard Island area.

Odds are crappie fishing should rebound once mild weather patterns return. Bass fishing should also improve but itís just been a bit too cold for most bass fishermen this past week.

The long range forecast does not show daytime highs above the mid-40ís. And, night time temperatures will dip below freezing throughout the weekend and well into next week.

Old man winter has indeed put the brakes on fall fishing but sooner or later moderate days will return.

Anglers may have to toss another log on the fire for a few more days and trade in the tackle for a good book or magazine. At least if you canít get out there and fish you can read about it!


Also check out our past:
Kentucky Lake Fishing Reports

Steve McCadams is one of the nation's best known Crappie Fishermen and a full time resident of Paris, Tennessee. Steve is also a professional hunting and fishing guide here in the Paris Landing area.