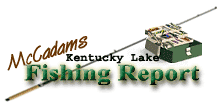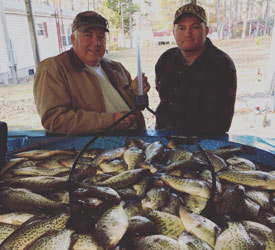 Steve Hale and John Wainscott from TN December 2016
Kentucky Lake Crappie Fishing
Crappie Action Guide Service



LOW LAKE LEVELS RETURN AS TEMPS RISE


The weather roller coaster has been stuck on go this week! Dramatic changes occurred the last several days after last week's frigid end.

After spending three days when temps dipped below the freezing mark and even slipped down to single digits two nights, a rapid rebound has been underway. Several days climbed back into the mid to upper 60's this week.

Unseasonably warm temps have been some 15 to 20 degrees above normal for this time of year.

Anglers are welcoming the warm up but high winds a few days this week curtailed activity. On Tuesday gale force winds even exceeded the 40 mile per hour range at times!

As temperatures have risen lake levels have fallen down below the winter pool mark at times. TVA really pulled the plug this week as lake stages dropped almost two feet from last week at this time.

Elevation was forecast to be 354 at Kentucky Dam as the weekend arrived. Upstream at New Johnsonville lake stages were expected to be in the 354.3 range.

Water color was relatively clear and surface temps were climbing back to the 40 degree range after last week bitter cold front saw some ice forming in many bays and shallow flats.

Crappie anglers working the deeper ledges in depth ranges of 17 to 22 feet should see improvement this week, although there was a bit of a shad kill last weekend after the quick drop in surface temperatures put many baitfish into shock.

Often times threadfin shad will fall victim to quick drop in surface temperatures and that makes it easy for fish to gorge themselves. That scenario can be tough on fishing for a few days.

Warm conditions are expected to linger for the next several days, working in favor of winter crappie anglers who are ready to get back in the game after a week or so off.


Also check out our past:
Kentucky Lake Fishing Reports

Steve McCadams is one of the nation's best known Crappie Fishermen and a full time resident of Paris, Tennessee. Steve is also a professional hunting and fishing guide here in the Paris Landing area.