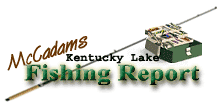 CHANGING WEATHER HAS ANGLERS RIDING ROLLER COASTER



It has been a beautiful week for fishermen testing the waters of Kentucky Lake. Most deserved it after last week's cold front had anglers digging deep in the closet for more clothes.

A portion of last week seemed like winter; a portion of this week seemed like summer! There's a tint in the treetops as some black gums are fading toward red and the scaly barks on the verge of a yellow parade.

What a difference a few days can make! Monday's high was 30 degrees above last Saturday's high and a couple days this week saw a record high temp broken or tied in some areas.

Warm days and light winds have been kind to fishermen this week who tested the waters for bass and crappie. Action improved in both departments too.

Surface temperatures fell in the aftermath of last week's cold front and even dipped down to the 68 degree mark a day or two before rebounding slightly when summer weather slipped in the door. The last few days have seen daily temps rise into the mid 80's but the weatherman says cooler conditions are coming as the weekend arrives.

Water temps have been starting out the mornings around the 70 degree mark and climbing to around 73 at midday. Another cool snap will see surface temps fall several degrees by this weekend or early next week as north winds are on the way.

Lake levels continue to sleep around he low ebb mark of 355 at Kentucky Dam whereas upstream around New Johnsonville readings are slightly lower at 354.8. Water color remains clear all over the reservoir.

Crappie seemed to have a positive response to the cooler surface temps as a few larger fish were showing up in the 6 to 8 foot depths compared to last week at this time. Cloud cover is helping the shallow bite as the fish are somewhat spooky due to the clear water conditions.

Days with a little wind have helped as well. When stagnant winds arrive the fish seem much more finicky.

Several fish are relating to shallow structure and big numbers of small fish are still lingering around stakebeds but an occasional big fish is there as well.

While most boats are vertical fishing 1/16 to 1/8 ounce jigs those backing off and casting weedless grubs or jigs and minnows beneath slip bobbers are also finding the technique effective. Backing off the shallow spots and casting doesn't disturb the finicky fish as much as the boat being right on top of them when water is clear.

Some boats are still stalking main lake ledges and probing the deep sides of drop-offs or working the break itself while tightline both minnows and jigs. A few fish have been caught in the 12 to 15 foot depths but fish there are quite scattered.

Anglers should see a few larger fish moving up as once surface temps fall into the mid to upper 60's it seems more keeper size fish blitz toward shallow structure. A lot of shad have moved up to shallow bays and flats the last few days.

Although a lot of small fish are still being caught, the ratio of keeper size fish to small fish seemed to improve some since last week's cold front lowered surface temps.

Bass fishermen have been tossing a variety of lures in a variety of places. The grass pattern continues to produce as anglers are tossing weedless baits over the matted vegetation and catching fish. Others are working the parameters or open gaps with top water jerk baits.

Some boats are backing away from the thick shallow grass and focusing on the deeper, fragmented patches of vegetation with such lures as Texas rigged worms, spinnerbaits and suspending jerk baits.

Working the main lake ledges and humps is still appealing to some boaters who are sticking with the summer pattern. Tossing jig and craw combos, big Texas rigged worms in the green pumpkin pepper colors have worked as have big deep diving crankbaits, swim baits and other midrange baits such as Strike King's Red-Eye Shad.

Schools of shad were roaming over both main lake flats and up into the backs of bays this week. Baitfish seemed to be moving more and anglers could see some schooling activity in the days ahead as bass push the bait up on top of sandbars or corral them toward the backs of big bays, especially where vegetation is present.

Shad colored variations of medium running crankbaits along gravel banks and points is a pattern that's overdue and could emerge quickly.

Low lake levels are exposing a few shallow stumps and rocky banks. Boaters are urged to use caution and continue to pay close attention to channel markers.

There's a lot of shallow spots far away from shore this time of year where boaters can get in trouble. Damage to your lower unit and prop can play havoc on a fishing trip so better beware!

Wise are the boaters who resist the temptation to take those shortcuts over main lake flats this time of year.

Although fall fishing is usually the beneficiary of stable weather, it appears anglers will again face changing conditions as the weekend nears. Better keep the overcoat and sunscreen handy. You never know what one you'll need these days!


Also check out our past:
Kentucky Lake Fishing Reports

Steve McCadams is one of the nation's best known Crappie Fishermen and a full time resident of Paris, Tennessee. Steve is also a professional hunting and fishing guide here in the Paris Landing area.