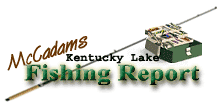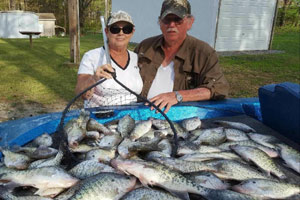 Jane and Tom from TN 2017
Kentucky Lake Crappie Fishing
"1 pole jig fishing"
Crappie Action Guide Service


CRAZY WEATHER THROWS CURVE TO
FALL FISHING


At a time when weather is normally nice and warm the last full week of October is proving to be anything but predictable.

Cold fronts have arrived in pairs. High winds have whipped the lake up with whitecaps. Below average temperatures are making it feel more like winter than fall.

Anglers are wrapping up best they can and holding on to a roller coaster thatís proving to be a wild ride. Autumn angling isnít supposed to be like this!

Traditionally the pumpkin month is good to fishermen here on Kentucky Lake. Stability is the norm. Light jacket mornings and shirt sleeve afternoons. Basking in the sun and admiring the colorful shorelines that parade fallís colors that mirror breathtaking images is placid waters.

Perhaps things will improve by next week as peak colors are on the threshold. A few frosty mornings have and some rain earlier in the week have stimulated the transition.

Lake levels this week have danced around the low ebb of winter pool and havenít fluctuated much. Projections for the weekend show an elevation of 355.1 in the Kentucky Dam area. Upstream around New Johnsonville the reservoir is a bit lower with lake stages in the 354.7 range.

Surface temperatures have cooled since last week. Readings at midweek were in the 66 degree range. Anglers can expect a drop of two or three degrees by this weekend as cold days and frigid nights will have an impact.

Water color remains clear across most of the reservoir with some isolated areas of stain due mostly to wave activity stirring up shorelines.

Crappie fishing has held up pretty good despite inclimate weather. There have been some decent stringers taken on days when winds allowed anglers to maneuver about the main lake areas. There have also been a day or two when the bite was off due to cold winds that dictated where and how anglers could fish.

Depths of 5 to 11 feet have given up a lot of fish lately. Several small fish were in that depth range but right there with them have been some decent sized ones too.

Most anglers are vertical fishing jigs and or tipping jigs with minnows and Berkley Power Bait in the chartreuse, white or red colors. Popular jig colors have ranged from black/chartreuse to red/black, blue/chartreuse and grape/clear with sparkle just to name a few.

Deeper depths have also given up several crappie as well. Some boats are slow trolling crankbaits, curly tail grubs and Road Runner style jigs in big bays or main lake areas in depths of 10 to 14 feet. The long line trolling techniques allows boaters to cover a lot of water and find a few suspended fish now and then.

Spider rigs have also paid dividends for anglers slowly pushing jigs or live minnow rigs over brushpiles and stakebeds in a variety of depths.

Some deeper main lake ledges have given up fish too as structure in the 16 to 19 foot depth zone was holding on to some fish. Most anglers working the deep water are tightlining jigs or using bottom bumping rigs armed with live minnows.

Most anglers are encountering plenty of fish. The larger slabs have been hard to pattern in big numbers of a few are showing up from a variety of depth ranges.

Just about every technique is being applied by anglers visiting Kentucky and Barkley Lakes this weekend during the Crappie USA Classic.

Bass fishing has been a bit challenging for most anglers whether fun fishing or entered in various tournament competition.

During a recent two-day Tennessee Bass Federation tournament out of Paris Landing State Park there were 69 boats participating yet only four five-fish limits were weighed in. Thatís pretty much tells the story of the recent bass bite.

A few smaller bass have been taken on gravel banks and main lake flats by anglers tossing shallow running crankbaits and swim baits. However, very few schooling bass have been seen.

Others are still stalking deep ledges with big crankbaits and Texas rigged worms hoping to find some bigger fish laying out off shorelines and shallow humps. The action has been inconsistent, however.

Odds are more stable weather will return early next week, bringing temps back to the normal range. And, light and variable winds will return, improving the overall fishing scene and the attitude of Kentucky Lake anglers who have been beat up this week by Mother Nature!


Also check out our past:
Kentucky Lake Fishing Reports

Steve McCadams is one of the nation's best known Crappie Fishermen and a full time resident of Paris, Tennessee. Steve is also a professional hunting and fishing guide here in the Paris Landing area.