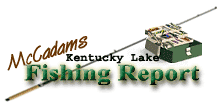 WEATHER CHANGE WELCOMED…ANGLERS YEARN FOR FALL'S RETURN


Anglers are yearning for a change. It appears they're going to get it too!

A drastic change in temperatures is in progress that should return that fall feel to the fishing scene for Kentucky Lake anglers. It's going to be a week that started out with hot summer conditions but ends on a fall note for sure.

Fishermen have endured hot and humid conditions the last week to ten days and are ready to return to cool mornings, light winds, and perhaps a dose of fog to filter some of the bright sunlight that has dominated. You know it's too dry when even fishermen are calling for rain.

The rash of warm weather has lingered with an extended spell of high pressure that had temperatures some 10 to 12 degrees above normal. The lack of rain has Kentucky Lake very clear too, a scenario that makes it tough on shallow anglers at times as fish, especially crappie, are sensitive to bright light conditions.

Lake levels this week dropped to their lowest levels since back in March. Elevation projected for the weekend will be 354.9 range at Kentucky Dam and 354.8 upstream at New Johnsonville. Rain and runoff have been almost nonexistent for the month of September across the region.

Surface temperatures lost ground this week as the influence of warm weather dominated. Surface temperatures last week were in the 73 to 76 degree range but increased to the 79 to 80 degree range at midweek.

At a time when water temperature should have been cooling down it went in the opposite direction but watch for a dramatic change in the days ahead as the cold front takes over. Northwest winds are expected to push much cooler weather to the region and chilly nights will bring the surface temp back down over the weekend.

Crappie action has been sluggish this week as the fish took on a finicky mood for most anglers. A lot of days were not only hot with clear skies but had little or no wind. The stagnant atmosphere had an adverse effect on the fish too as bites were extremely light.

A few fish had entered shallow areas the previous week or two but seemed to back off and occupy deeper drop-offs as of late. The high skies are great times to be out on the lake and enjoy the beauty of fall but some of the best fishing conditions occur when cloud cover or rainy days descend, bringing a low pressure that stimulates the bite.

I found a few fish lingering in the 17 to 19 foot depth range at midweek after toughing it out in midrange stakebeds for a day or two without much to show for it. Live minnows on tight line bottom bumping rigs paid dividends as it was clear the fish had fallen back to deeper venues.

Fish have been finicky as even some of the larger crappie taken showed little interest as the initial strikes were extremely light.

One species that has been active is the aggressive schools of yellow bass. The annoying little rascals will hammer your jig and minnow combo with that "machine gun" style bite that robs your bait in the blink of an eye.

Although small in statue, yellow bass deliver a fight to the finish attitude and pack a punch despite their average size ranging around a quarter of a pound. Seems they have an endless appetite.

Watch for shallow to midrange areas to resume by early next week if not sooner. The weather change should see crappie filter their way back to shallow structure in hot pursuit of schooling.

Bass activity has been a bit slow too as most anglers are struggling to find a consistent pattern. The larger fish have been playing hide-and-go-seek.

Some boats continue to target the abundance of visible vegetation as areas south of Paris Landing have an abundance of thick grassbeds around island rims and shallow flats. Most are working the parameters with topwater and assorted weedless lures in the early morning and late afternoon hours but switching over to shallow running jerk baits, Texas rigged worms, and spinnerbaits throughout the day.

Other patterns still producing have been ledges on the main lake as the summer techniques haven't gone away, especially since summer weather has hung around. However, very little current has been observed in the main Tennessee River channel so that's has made it more challenging.

Some shallow fish were taken this week by anglers working shallow running crankbaits around gravel banks where shad were present. And, a few fish were schooling at times on shallow flats as schools of shad moved up.

Some scattered catfish are showing up along the main river channel as anglers bump bottom and search deeper holes but crappie anglers continue to catch catfish on a regular basis from their midrange stakebeds and brushpiles.

Perhaps normal fall patterns and venues will start to produce again now that cooler conditions enter the picture and push away the summer doldrums.


Also check out our past:
Kentucky Lake Fishing Reports

Steve McCadams is one of the nation's best known Crappie Fishermen and a full time resident of Paris, Tennessee. Steve is also a professional hunting and fishing guide here in the Paris Landing area.