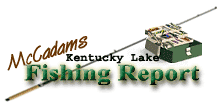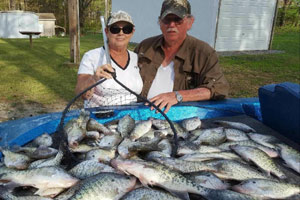 Jane and Tom from TN 2017
Kentucky Lake Crappie Fishing
"1 pole jig fishing"
Crappie Action Guide Service


GREAT FALL WEATHER GREETS KENTUCKY LAKE ANGLERS


Fall fishing is alive and well on Kentucky Lake this week thanks to great weather that arrived on Tuesday in the aftermath of a cold front that put a little chill in the air.

Sunny days have dominated since midweek as mild temperatures and light winds teamed up to deliver excellent fishing conditions here on the big pond. After a rather warm fall, some jacket mornings and shirt sleeve afternoons are now the norm.

Surface temperatures responded to the cool nights and brisk morning wake-up calls. Temps fell to the 67 to 69 degree range at midweek. Thatís four or five degrees cooler than last week at this time.

Water color remains quite clear across most of the reservoir as very little rain has fallen across the region. Almost no runoff has entered the reservoir as it has been quite dry so no dingy water is present throughout the Paris Landing sector.

Lake levels were falling slowly at midweek after a slight rise in elevation last week. TVAís projections for the weekend indicate the Kentucky Dam sector will see lake levels in the 355.1 while upstream around New Johnsonville the forecast shows the elevation will be 355.4.

Crappie have been biting good this week. Some nice stringers of fish have been taken on a consistent basis by anglers working stakebeds and brushpiles in the 6 to 11 foot depth range. With the exception of a mean Monday when the backside of a cold front delivered annoying northeast winds the bite has held up well.

In addition to midrange depths paying dividends some anglers working main lake ledges in the 14 to 16 foot depths have also found enough fish to keep them happy. Bottom bumping rigs armed with live minnows have worked but so have jigs tightlined around the deep structure.

Although everyone is having to measure and cull several small fish, the big numbers of fish biting are keeping anglers quite busy. Expect to encounter several crappie just shy of the 10-inch minimum length limit but with cooler days and lower surface temps entering the picture a few more big fish should start showing up.

Popular jig colors this week ranged from red/chartreuse skirts fished on lime or red leadheads to some black/chartreuse, white/red and blue sparkle/chartreuse just to name a few. There have actually been a wide variety of color producing and some anglers continue to tip jigs with minnows and Berkley Power Bait crappie nibbles in the chartreuse or red with glitter colors.

Kentucky Lake crappie fishermen should have some good fishing for the next few weeks as more fish move toward shallow venues. Meanwhile, several anglers are still voicing concern over the lack of shad schools being seen.

Normally threadfin shad are abundant in the early morning and late afternoon periods along gravel banks. Theyíre usually seen feeding on midge hatches in the lowlight conditions but numbers of baitfish appear to be down.

Bass fishing has been a bit slow for most anglers but that could improve not that light winds and stable weather have returned.

Several boats continue to target main lake flats with shallow running crankbaits, suspending jerk baits and swimbaits. In an attempt to find some fish moving up on the shallow sandbars most anglers are attempting to cover a lot of water in their search.

Other patterns such as shallow gravel banks have been inconsistent. The shallow topwater bite hasnít worked very good lately but that can change when cloudy days enter the picture, especially the early morning and late afternoon periods.

Some boats continue to back off the banks and stay on a summer pattern of stalking main lake ledges with shad colored crankbaits and jig and craw or Texas rigged worms. There has been a little current this week on the main Tennessee River area and that usually works in favor of the ledge bite.

Each week the trees fade more toward a parade of fall colors. The peak is still another week or two away but now is a great time to be out there!


Also check out our past:
Kentucky Lake Fishing Reports

Steve McCadams is one of the nation's best known Crappie Fishermen and a full time resident of Paris, Tennessee. Steve is also a professional hunting and fishing guide here in the Paris Landing area.