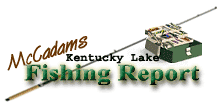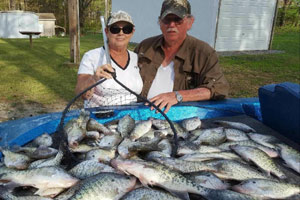 Jane and Tom from TN 2017
Kentucky Lake Crappie Fishing
"1 pole jig fishing"
Crappie Action Guide Service


WARM OCTOBER HAS FISHERMEN WISHING FOR REPRIEVE

There have been some hot ones out there lately! Kentucky Lake anglers have been wiping away summer sweat in the middle of October and wondering when fall conditions will return.

At midweek fishermen got a short reprieve from hot and humid conditions but are still yearning for cool, crisp morning that might chase away the lingering dog days of summer.

Despite the above normal temperatures these last few weeks crappie anglers continue to catch some pretty good numbers of fish. Just this week several fish returned to relatively shallow depths and were taken in 5 to 7 foot depths.

Some limits have been taken and a few boats have reported landing catches in excess of 100 fish some days. While they are culling a big percentage of their catch itís still a lot of fun to encounter that many crappie on any given day!

Surface temperatures this week have started out each morning around 73 degrees but climbed to 76 at midday. Thatís a bit warm for mid-October.

Hopefully cooler days are ahead which would help improve the shallow bite and perhaps bring a few bigger fish into submerged stakebeds and brushpiles. There are a lot of small fish there already.

Anglers vertical fishing shallow structure scored hefty numbers this week but are still having to measure and cull a lot of small fish. Thatís been the norm for several weeks as the weak four and five year classes of crappie mean those big fish are hard to come by.

Thatís not to say a few slabs havenít been taken; anglers are just having to catch and release a lot of small fish before adding keepers to the cooler.

While shallow bit has been good there are still some fish lingering on main lake ledges. A few decent stringers were taken by anglers tightlining jigs or jig and minnow combos in depths of 14 to 17 feet.

Expect to encounter a lot of pesky yellow bass at times but theyíre mixed right in with some decent crappie at times.

Meanwhile, popular jig colors are ranging from chartreuse with glitter to combos of black/chartreuse, blue/chartreuse and some lime/white just to name a few. Tipping jigs with minnows is working too. Some anglers are also adding Berkley Power Bait to their jigs and enticing bites.

Other techniques producing have been long lining crankbaits and Road Runners along main lake flats where crappie are parking in midrange depths.

Many anglers are voicing concern this fall about the low numbers of shad being seen. Traditionally schools of threadfin shad are seen throughout the fall months as they meander across the lake on calm days. That has not been the case!

Water color is quite clear across most of the reservoir. Some anglers are dropping back and casting curly tail grubs or live minnows fished beneath slip bobber rigs around shallow venues to keep from spooking finicky crappie.

Lake levels this week saw some minor fluctuation. After sleeping at the low ebb of winter pool the reservoir had a slight rise at midweek.

Presently the elevation at Kentucky Dam is 355.6. Upstream at New Johnsonville lake levels are a bit lower and projected to be in the 354.8 range this weekend.

The bass bite has been sluggish lately as anglers struggle to establish a consistent pattern. Some fish that had moved up shallow a few weeks ago have chosen to pull back and move to main lake flats and midrange depths.

Some scattered fish are on ledges in the main lake areas or occupying structure in 7 to 10 foot depth zones. Crappie anglers fishing midrange depths are tying into some decent size bass at time that are relating to their submerged crappie beds, which shows how the fish have backed off the banks.

Tossing crankbaits and swim baits has been the best thing going. Some Texas rigged worms have worked too.

There have been a few days when a slow current was present and that helped the ledge bite for anglers tossing shad or chartreuse colored Rattle Trap style lures.

On days when no wind was present both the crappie and bass have been quite finicky. Whenever cloud cover or wind was present the bite improved.


Also check out our past:
Kentucky Lake Fishing Reports

Steve McCadams is one of the nation's best known Crappie Fishermen and a full time resident of Paris, Tennessee. Steve is also a professional hunting and fishing guide here in the Paris Landing area.