KENTUCKY LAKE CRAPPIE PICTURES
From October/November
Guide Ken Riddick of Crappie Action guide service stays after the crappie year around and it pays off. He and his clients have had some nice catches lately and we thought we'd bring you a couple.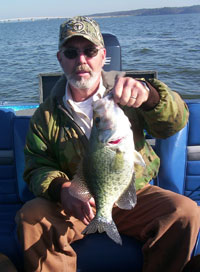 Jack Mcgee from Nashville fish weighed 3lbs. even. Caught in Big Sandy on minnow. 10/24/03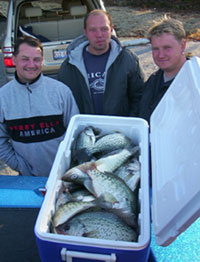 Tom Klova , Rolandas Kundrotas and Irmantas Jonaitis
of Chicago with a cooler full of slabs
Fish were caught in Big Sandy 10-15' water using red Big Head Jigs with orange/char skirt.
Kentucky Lake provides some great crappie fishing year round. If you haven't tried the fall and winter fishing, you don't know what you're missing.
For more information on Crappie Acton Guide Service...click here