EARLY SPRING CRAPPIE PICTURES
courtesy of: Crappie Action Guide Service
By most accounts, the crappie fishing has been tough for early season anglers on Kentucky Lake. Water levels have been up and down then up and down again. Not to even mention the windy conditions that we've experienced.
But, there are always some folks bringing in some nice crappie in the Paris Landing area. Even when conditions are tough, the folks from Crappie Action are out there bringing in some nice catches. Here's a few photos from recent trips.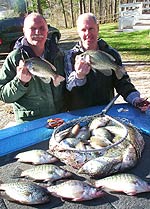 Dave Hagen and brother Pat of St Louis, MO
Caught in Big Sandy River using Big Head Jigs
March 22nd, 2004


Rob Gaddis of Ky and Tony Potter of IL
Fish were caught in Big Sandy 15-20' deep
March, 2004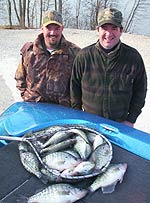 Rick Edmiston and son Richard
Fish were caught 15-20'deep on red Big Head Jigs
with orange/char and white/char skirts
February 21st, 2004
The action should really be heating up soon. To book your crappie fishing trip on Kentucky Lake, call Crappie Action at 731-285-3551. Also... visit their website for more great crappie pictures.