All About Crappie
Both white and black crappie live in ponds, lakes, reservoirs and low-gradient streams and rivers. They concentrate around brush, fallen trees and stumps. Both species feed on insects, freshwater shrimp, amphipods and small fishes and are found throughout Tennessee except in higher elevations in the east. Although both are common in their Tennessee range, white crappie is more abundant.
Black Crappie: (Pomoxis nigromaculatus)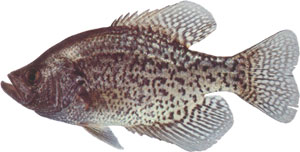 Black crappie are found in quiet, warm waters, and are often associated with thick aquatic vegetation and sandy to muddy bottoms.
In the spring, they eat more bottom-dwelling insects than white crappie. Larger black crappie feed on fishes. Harvested black crappie average around 10 inches in Tennessee. They normally range from six to 14 inches in length.
White Crappie: (Pomoxis annularis)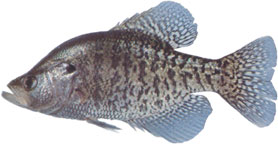 White crappie are found in streams, lakes and slow-moving areas of large rivers, and they thrive in small lakes and reservoirs. They are more tolerant of muddy water than black crappie. White crappie males often become much darker during the spawning season and at that time are often misidentified as black crappie.
White crappie feed on insects, freshwater shrimp, amphipods and small fishes. They are abundant in their range. Average length for the white crappie is the same as that of the black crappie.
Crappie are thought of by many as the best tasting fish that Kentucky Lake and Lake Barkley have to offer. The meat is very delicate and mild; most often breaded in cornmeal and fried.
In this region crappie is served with hushpuppies, french fries, onion rings and white beans. If you get the opportunity, cook some up the day they're caught, that's when they're best. Try some crappie, I bet you'll agree with us. When it comes to eating, crappie is king.