BIG CATS ON THE PROWL….KENTUCKY LAKE LUNKERS SWIM DEEP
by Steve McCadams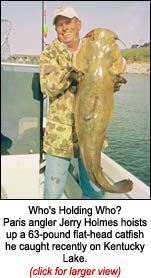 If you caught a big fish would you really turn it back or take it home and brag to your buddies?
For Paris angler Jerry Holmes it's pretty much catch and release on all his outings. He has a dose of catfish fever and the only treatment seems to be frequent trips to Kentucky Lake where the stalks the deep dark waters for monster catfish.
What's considered to be a big fish in the eyes of most anglers? That's a good question as to some just a tug on the line and a slippery creature on the other end is all it takes to formulate a fish tale.
And big is a relative term when it comes to fishing. Especially for catfish.
Holmes has gotten the address of some hefty Kentucky Lake flathead catfish recently. And, he manages to land some big yellows and blues too.
What's he using for bait you ask? Most anglers in hot pursuit of ole' whiskers rate nightcrawlers at the top of the list. Several prefer chicken or beef liver while a few choose catalpa worms or rely on a smelly concoction that's either store bought or whipped up with some home recipe.
For Holmes, however, it's none of the above. His choice bait will cause some anglers to make a face and turn away but the proof is in the pudding.
"I use leeches," laughs Holmes, when asked what the secret bait of success is for these monsters from the deep blue.
"Been using 'em for quite some time and the catfish love 'em. In the last few weeks I landed and released a 32-pound blue and a 28-pound flathead. And, I caught and released several around 20-pounds."
"I don't catch too many little ones as I'm fishing real deep holes with big line and all," continued Holmes. "I use a bobber to detect the bites and regulate depth."
Just a couple of weeks ago he landed a 63-pound flathead that took him on a ride for about 40-minutes.
"He put up quite a fight and he came out of 23 feet of water but I often fish deeper. I looked it up in a book as to his length and girth. It said the fish was about 10-years old."
For the big one he used 24-pound test line. Not bad for landing a fish almost three times the recommend test weight.
Finding deep holes or slight humps with a gravel bottom has been the ticket for Holmes and his catfish boat, which is anchored while searching the confines and venues of the Tennessee River.
I've managed to garner an invitation and plan to take advantage of the opportunity in the weeks ahead. Meanwhile, if you see or hear someone honking the horn and riding around the court square with a fish on the hood of his truck you'll know it's me.
Sometimes these catch and release things can go too far!
Steve McCadams
is a professional hunting and fishing guide here in the Paris Landing area. He has also contributed many outdoor oriented articles to various national publications.