This page brought to you by: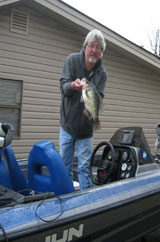 BIG CRAPPIE CATCH
April

Last Friday fishing was tough for most anglers battling high water and wind but Illinois angler Mike Alverson thought it was a pretty good day when his pole bent.
Alverson was fishing Kentucky Lake and landed a slab crappie that tipped the scales at Mayer's Grocery to the tune of 3.2 pounds! The trophy fish was 16 ¼ inches long with a girth of 13 ½ inches and was the biggest crappie of his fishing career.
Guess what he did with the trophy fish? He released it off the dock at Buchanan Resort to one day bite again.
"There's no way I could every kill a fish like that", said Alverson via email to me this week.
A tip of the fishing hat to Alverson for landing a trophy crappie and for being a sportsman and returning it to the lake.